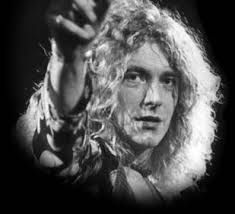 had met Robert Plant on the sidewalk, a block away from my store, Briggs and Briggs Music in Harvard SQ. I pointed out our store and he said he'd be by. I got back to work and my coworkers were like, "Oh, sure, Bob. You met Robert Plant and he's coming in. Uh huh". I was coming up from our downstairs and as I ascended , I saw the street floor. I looked out and saw Plant open the door, get down on his haunches, point at me, and eye to eye, say, "There he is".
I replied, "Hi, Mate".
We had a good time. He bought lots of CDs that I had bought for the store. People ran in like idiots (Harvard students) to get his autograph. We had a good talk and found out we knew someone in common, Scott Billington from Rounder Records.
So, a few years go by and somebody comes into the store to tell us that Robert Plant was in the bookstore next to us. We looked out our side windows and there he was, purchasing books at the their counter.
So, he came in and I was at the record counter immediately to his right.
"I remember you", I said.
"And I remember well the distant bells and the rain that fell out of the blue", he replied.
This time I told him he could take CDs  downstairs to listen to on one of the boom boxes we sold. I got out of his hair (his pretty glorious hair). He was looking good. He didn't buy as much this time. But did buy the ones he opened.
He said, "I'll be back tomorrow to listen to more music and I get a tape of your music". I fumbled in my shirt pocket, nervously stuttering as  I tried to get a cassette out.
"Here's one that only has half  of the songs written on the package so far, but there's one song that is more your style called "Run". Don't feel obliged", I said, heart pounding.
"I never do", and he was out of the door.
I then realized  that the tape was cued up to Episode 1 of "Bob the Squirrel", my audio cartoon series about a love lorn squirrel pining for his ex-squirrelfriend.
I took my afternoon break right there and then, racing out of the store trying to track Mr. Plant down and get my tape back. I checked every record and book store. Could not find him.
Two weeks later I stopped by the store on  my day off. "Your buddy…………Plant is contesting his bill with American Express".
"What, I asked.
"He's saying he didn't buy things here. We have to send his accountant a copy of the the sales slip"
He looked me in the eye. "It's that "Bob the Squirrel"".